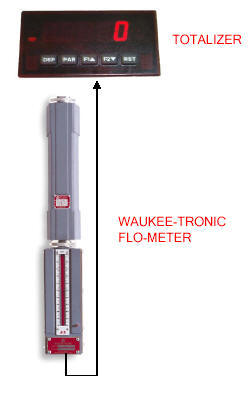 Waukee Flow TotalizerTM

The Waukee Flow Totalizer is comprised of a 4-1/2 digit, programmable process meter. The meter is easily programmed for any flow scale and offers a variety of display formats, reset, alarm and output options.

The Totalizer can display instantaneous flow rate and totalized flow.

The unit may be panel mounted and is supplied by Waukee pre-programmed for the customer's flow rate specification.

The unit is supplied for 120 VAC or 24 VDC power

The Waukee Flow Totalizer is sold as an attachment to a Waukee-Tronic or Valve-Tronic Flo-Meter.